Listen to available homilies!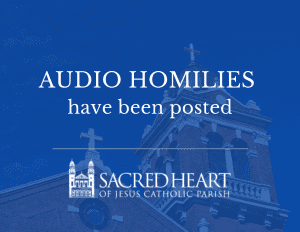 When possible, homilies are recorded and made available by volunteers of the parish. Please enjoy them here and on myParishapp.
Dear Sacred Heart Families,
On the 18th of this month we will have our annual State of the Academy presentation. In year's past this was a time to connect families and administration to discuss important institutional updates or changes. Since COVID has caused a constant stream of important institutional changes we have had regular Headmaster Conversations to serve as this communications bridge. These regular check-ins will continue and they have actually enabled us to have a deeper conversation about the school's status and future for this year's State of the Academy. I will be joined this year by several other presenters. We will use this time to reaffirm our understanding of the school's vision and to recharge our zeal for the school's mission. Look for more details on the event next week, but for now please mark your calendars for the evening of the 18th.
In Jesus through Mary and Joseph,
Sean Maltbie Headmaster
...

See More

See Less