Listen to available homilies!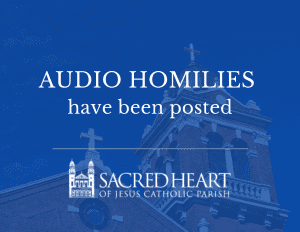 When possible, homilies are recorded and made available by volunteers of the parish. Please enjoy them here and on myParishapp.
OUR APOLOGIES!
CORRECTION: The prize for the incentive was listed incorrectly. Please re-read the following corrected text.
AUCTION TICKET SALE THIS WEEKEND-Buy to attend in-person now and get entered to win a $150 Amazon Gift card!! Attend the Auction in person, visit all 13 Heart to Heart tables and be entered to win an Apple iPad and earbuds!
REMINDER! After Saturday evening and Sunday Masses we will have Auction Committee staff available to sell IN PERSON and VIRTUAL Auction tickets and Sponsorships for this year's auction! We will be accepting credit card and check If you would like to pay with cash, we'll take exact change only please!
BONUS! All those who have purchased tickets to attend the auction IN PERSON at the Goei enter through midnight on August 2nd, 2021 will be entered to win an Amazon Gift card!
If you already ordered tickets through our email that went out recently, you will be included in the entries!
...

See More

See Less
Sacred Heart is gearing up for R.C.I.A. classes...the best way to explore the Catholic faith or begin your journey into the Church! Starting September 13, 2021.
...

See More

See Less