Hoc facite in Meam commemorationem
"Do this in memory of Me."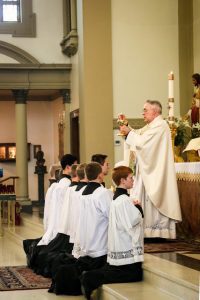 The celebration of the Lord's supper in the Most Blessed Sacrament of the Eucharist is "the source and summit of the Christian life". We cherish the opportunity to worship together at the mass and receive Christ in the Eucharist.  At Sacred Heart of Jesus parish, the Holy Sacrifice of the Mass is offered at 7:45am on ordinary weekdays: these daily masses are "Low" masses, about 30 minutes long, and not sung unless it is the commemoration of a special memorial or solemnity. These are open to all, and very family-friendly: you will see all the staff and students of our academy in the pews. On Saturday, there is a low mass at 8am and the vigil mass at 5pm. Sunday masses are at 8am, 10:30am (Solemn Mass in English), and 12:30pm (Extraordinary Form Traditional Latin Mass). All are invited to attend and Catholics in good standing are invited to receive the sacrament of Eucharist. We gratefully welcome families with small children and encourage their presence in the congregation.
All are invited to celebrate Mass. Catholics in good standing are invited to receive Eucharist.
More information about attending Mass.