Adjutorium nostrum in nomine Domini
"Our help is in the name of the Lord."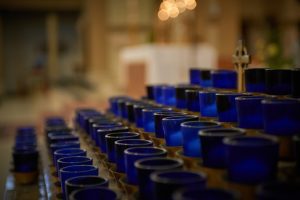 "Heal the sick!" The Church has received this charge from the Lord and strives to carry it out by taking care of the sick as well as by accompanying them with her prayer of intercession. She believes in the life-giving presence of Christ, the physician of souls and bodies" (CCC 1509). Those who are suffering illness may avail themselves of this powerful sacrament. If you require anointing, please fill out the form below and someone will contact you shortly. In cases of emergency when the Viaticum is required, call the church office directly at 616-459-8362.
"This sacred anointing of the sick was instituted by Christ our Lord as a true and proper sacrament…" (The Catechism of the Catholic Church on the Sacrament of Anointing )
Anointing of the Sick at Sacred Heart
To receive the Anointing, please fill out the form below.