Spring is for WestFest!
WestFest is back for 2023!
We have a new Facebook page!! Please check our WestFest Facebook page and check out what we have planned this year!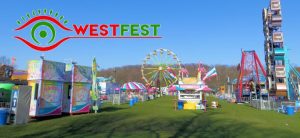 Sacred Heart Parish & Academy is proud to host the largest family festival on the West Side of Grand Rapids! In an over 40-year tradition, we have brought the West Side community together to enjoy four fun-filled days of carnival rides, great food, local brew and events that vary annually such as car shows, mock weddings and bake sales; each year we change it up a bit!
WestFest happens on the beautiful grounds of John Ball Park and the Sacred Heart Parish & Academy campus off of Valley Ave and Fulton! Tickets can be purchased in advance at a big discount!
In early Spring, you will begin seeing information on Facebook posts, website links, bulletin announcements and will be able to find links to the WestFest page on the most popular Grand Rapids event pages such as GRKids, GRNow, Experience Grand Rapids, the WZZM13, WOODTV8, FOX17 calendars and more, just keep your eyes open!
Be A Sponsor!
We are always looking for great local businesses to sponsor this event. On a good-weather year, this event has attracted over 30,000 unlimited-ride wristbands alone! If you own a business and would like information about how to be a sponsor, please send an email to: parishoffice@shgr.org
Volunteer!
If you are interested in helping with the next WestFest, please contact the parish office at parishoffice@shgr.org
Photos from Previous Years