Note: The Christmas Market is by invitation only and is not open to the public.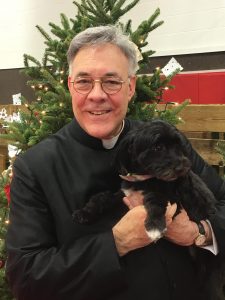 Christmas Market is a very special opportunity for about 30  invited community families in-need to spend the day at Sacred Heart shopping for their loved ones. Brand new donated gifts for all ages are offered at very affordable prices and parents may shop and have their gifts wrapped while we entertain their children with crafts, treats and good ol' St. Nicholas! We have volunteers load up our guests' cars while the kids are still inside and they don't suspect a thing! The best part? Our gym is turned into a winter wonderland complete with carolers, lighted Christmas trees and of course, the Nativity is on display. If you would like to volunteer for next year's Christmas Market, please complete the volunteer form and select it in the drop down.
How Can YOU Help? Donate or Volunteer!
---
Donations Needed
Donate new, quality toys for children 1-17 years old. Please do not wrap the gifts. Gifts should be brought to church the last week in November. Too busy to shop? Make a contribution or donate a gift card to Meijer, Kohls, or Walmart and we will do the shopping for you! Simply place an envelope marked "Christmas Market" in the collection basket.
Because our goal is to provide quality toys at affordable prices, we request that your donated gift have a retail price of at least $20 or more. 
As these families may come from different ethnic backgrounds, think of this when purchasing dolls and such.
Donation Ideas
Remember, kids from the invited families want the same toys your kids and grandkids want!
INFANT: infant-appropriate toys.
EARLY CHILDHOOD: Little Tikes® toys; Fisher Price® toys; baby dolls and furnishings; table/chair sets; Dublo® blocks; tool sets; wagons; learning games.
ELEMENTARY: sports equipment; Lego® sets; Shopkins®; art/craft kits; dolls & accessories; action figures; remote-controlled vehicles; tool/science kits; Matchbox® cars & road sets; NERF toys.
TEEN: art supplies; drones; sports equipment; college and pro-sport logo items; hair dryers/flat irons/curling irons; nail polish.
---
Volunteers Needed
We are in need of volunteers to help with various tasks for the Christmas Market. If you are interested, please complete the Volunteer Form and choose Time & Talent and then Christmas Market in the dropdown menu.