Each year Sacred Heart participates in the 40 Days for Life Campaign. As is our custom, we at Sacred Heart of Jesus Parish take responsibility for the first day from 7am to 7pm) and the last Friday of the campaign 7am to 7pm.
The fact that we need to continue this campaign is sad and distressing. Since 1973, our country has made it legally possible for a woman to kill her own flesh and blood. Allowing this to happen also opens the door for prostitution and sex-trafficking. Many times, those of us who are on the sidewalk throughout the year, witness obvious situations of these horrors. Let us all ask ourselves if we have done enough, or anything, to stop this abominable practice.
You are encouraged to respond to the call to fight this evil. You are the hands, feet, and mouth of Christ. Sign-ups will take place a few weeks prior to the beginning of the campaign. You are encouraged to go on-line, register if you have not done so yet, and sign up for a time. This way, you will get reminders and other information, prayers, and news.
Here are the directions: REGISTER ONLINE TO PRAY AT THE PEACEFUL VIGIL
1.Visit www.40daysforlife.com/grandrapids.
2.Log in to your account … or … create a login.
3.Click the green "Add Vigil Hours" box.
4.Click on the day you want to pray at the peaceful vigil.
5.Click on the hour you want to pray.
6.Enter your e-mail address.
7.All done!
A reminder will be sent to you via e-mail before your prayer time. To receive updates from the local Grand Rapids campaign, e-mail a request to 40daysgrandrapids@gmail.com.
---
March for Life – January
Sacred Heart of Jesus Parish & Academy sends a bus of 50+ representatives to participate in the March for Life in Washington D.C. every year. This national event takes place in January and most of the participants we send are youth and young adults of our Parish and Academy!
This is experience is a time of bonding and prayer and contemplating the value of every human life from the moment of conception. In 2018, we were witness to the first address by a US sitting president, Donald Trump via satellite.
Baby Blanket Marathon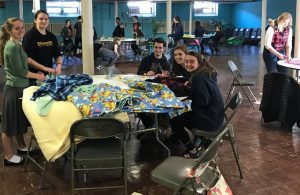 In preparation for the trip and in support of the Right to Life effort, the group holds a Baby Blanket Marathon! They gather 800 yards of donated fleece and spend 12 Hours creating baby blankets usually on the first Saturday in January. The purpose of the Marathon is to raise greater awareness for the Sanctity of Life, to assist the local Catholic Help Crisis Pregnancy Center, and to raise necessary funding to offset the travel cost to Washington D.C. for the March.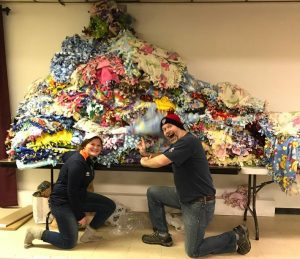 Please prayerfully consider donating fleece! We accept fleece all year long for this event. The only criteria is that the colors and the patterns be baby-friendly.
For more information on March for Life, contact Michael Tober at dre@shgr.org