"…that Sacred Heart Academy and Parish was the place chosen by the Heart of their Spouse where our Sisters should live, pray, serve and grow in sanctity!"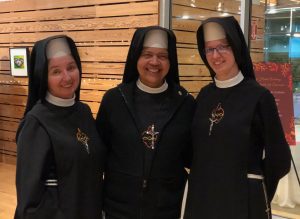 Glory Be to the Most Sacred Heart of Jesus
As Sister Servants of the Most Sacred Heart of Jesus, we always knew the Lord's Heart to be ever set on designs of love and mercy, but this was manifested most clearly in the unfolding of His plan to direct our Sisters' steps to serve Him in Grand Rapids.
It all began in November of 2016, when our friend, Knight of Malta, Patrick Fabian, had occasion to meet with Fr. Robert Sirico and his advisors. Fr. Sirico then mentioned that Sacred Heart Academy wanted to welcome a good religious order who could serve at the school and parish. Patrick was able to share with Father Sirico about our Sisters and our history: how we were founded in Krakow, Poland in 1894 by St. Joseph Sebastian Pelczar and Blessed Klara Szczesna; that we were devoted to contemplation and works of mercy; and that ours was the Congregation blessed to serve in the episcopal and papal households of St. John Paul II.  Patrick in turn then told our Sisters about the great things being done at Sacred Heart in Grand Rapids, and soon plans began to unfold for us to meet and visit. As inclement weather and scheduling conflicts arose, it seemed likely the initiative might go nowhere, yet the Heart of Jesus was undeterred in His intentions to bring us to Michigan!
On August 1, 2017 a new provincial administration assumed office for our American Province.  Mother Provincial Klara Slonina, with a new set of eyes, considered the apostolic works and living conditions of the Sisters.  In dialogue with her Provincial Council at their October 9, 2017 meeting, the suggestion to revisit the possibility of serving in Grand Rapids was introduced and was met with favorably by all.  It was resolved to contact Fr. Sirico and Mother then asked her Assistants to pray to know the will of God.
Father Sirico responded promptly and warmly and his Sacred Heart Academy Family opened their doors, homes and hearts to our Sisters from November 2-4, 2017 during a visit by Mother Provincial Klara Slonina, Sr. Mary Joseph Calore, and Sr. Mary Daniel Jackson.
This initial visit, and subsequent visit with meeting with the Pastor, his staff and the local Ordinary from December 16-18, 2017 proved sufficient for our Congregation to discern that Sacred Heart Academy and Parish was the place chosen by the Heart of their Spouse where our Sisters should live, pray, serve and grow in sanctity! As we embark on this new venture with joy and a sense of responsibility, we seek to embody there the words of our motto, Glory be to the Most Sacred Heart of Jesus!
Sister Mary Joseph Calore, SSCJ
Provincial Assistant
NOTE: In 2018, Sister Gabriela was called back to Pennsylvania to attend to family. She is greatly missed.