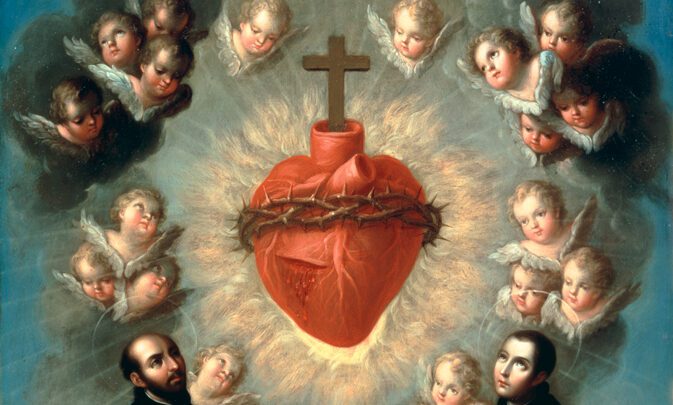 June is dedicated to the Sacred Heart of our Lord. Join us for a celebration of our Patronal Feast on the Solemnity of the Sacred Heart when we will be celebrating with a Traditional Latin Mass on Friday, June 24th at 5:30pm with a dessert reception in the courtyard to follow. The Consecration to the Sacred Heart will occur immediately following the Mass and families will have the opportunity to have their certificates filled out at the reception. If you have already consecrated your family to the Sacred Heart, there is no need to get another certificate but it is always good to renew that consecration.
Please go here to sign up to help and/or to bring a dessert: SIGN UP GENIUS
Why have a devotion to the Sacred Heart? Over the centuries, the Catholic Church has grown in understanding the worship of the Sacred Heart of Jesus. Many people have discovered in the contemplation of the open heart a valid way to identify themselves completely with Christ and to live the call to holiness.
The contemplation of the Sacred Heart of Jesus opens nowadays new paths to holiness in the Church. It can be presented to men and women of our time in need of divine mercy as a message of hope so that "In this way, […] on the ruins accumulated through hatred and violence, the civilization of love so greatly desired can be built, the kingdom of the Heart of Christ" (John Paul II, message to the Superior General of the Jesuits, P. Peter Hans Kolvenbach, 5/X/1986).
The consecration to the Sacred Heart of Jesus Christ is an act in which we want to fix our eyes on Jesus Christ, so that he helps us to live "planted and built up in Jesus Christ, firm in faith" (Col 2:7).
As the church was born out of the pierced heart of Jesus, we do well to contemplate the pierced heart of Our Lord; the love which emanates from His pierced heart which leads us all on our mission to proclaim love, salvation, redemption and eternal life.
View