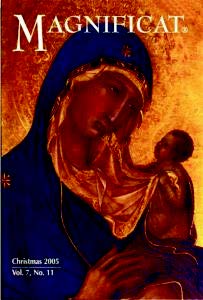 If you currently have a subscription to the Magnificat magazine or would like to have a subscription, now is the time to renew or sign-up. We place a bulk order which gives us a 50% discount off the newsstand price. Delivery is to the academy and pickup is every month from the narthex of the church. These are not delivered to your home. You will be notified each month when your Magnificat is ready for pick up. If you would like to renew or subscribe for the first time, please send a check made out to Sacred Heart Church for $26.00 per subscription and mail to the church office at 156 Valley Ave. SW 49504 or drop it in the offering basket at Mass on Sunday by May 22. Make sure to write "Magnificat" in the memo line. Please include your phone number and email address.
New subscriptions start with the September issue.
If you have questions, please email Noelle at ndivozzo@sacredheartgr.org or call 459-8362. To visit their website and see sample issues go to www.magnificat.com.