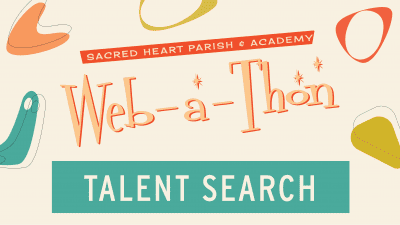 We hope you are having fun making these videos and photos!
Here is your Week 2 Talent Challenge…
Choose one or both of the following:
"Recitation Creations"
Remember these from school? Pick your favorite recitation you know or learn a new one. Create a video of one or more people reciting the piece. Find a beautiful place to record your recitation with a nice background or have siblings "illustrate" the recitation in a comical or overly dramatic way. 
"Can You Do This?"
Do you or your children have hidden talents and tricks? Showus a creative, unique, silly thing you can do that many people didn't know you could! Examples include but are not limited to: drawing or creating art (this could be time lapsed), balance a ball on your finger, make a hard shot into a basket, etc.. Show us what you've got. Make sure whatever you do is safe and cleared with parents before attempting any trick which might be dangerous. 
Week 2 Challenge Due Monday, Aug. 3
Send to: webinfo@sacredheartgr.org
---
Below is the original post:
Sacred Heart is seeking kids,teens, adults & families to participate in 7 Weekly Talent Challenges!  Got talent? Like to take photos and create videos? For the next 7 weeks, we will be posting "Talent Search Challenges" on our websites and Facebook pages and the winners may get a chance to see their video or still image on our live Sacred Heart Parish & Academy Web-a-Thon program scheduled to air on Saturday, September 26, 2020.
Interested? Please make sure to review the rules and all of the upcoming TALENT SEARCH CHALLENGES.
And now for the first Challenge… 
---
Week 1 Challenge
Choose one or both of the following:
Option A: "Life Imitates Art"
Recreate a classic work using yourself or members of your family. Wear similar costumes, backdrop and props to imitate a favorite work art or a historical photograph. Take a picture and submit a photo of your final image along with a photo of the original. You may also create your own artwork and take a well-lit photo of your piece. Please remember to credit the original work.
Here are some examples:
Option B: "Silly Side-by-Sides"
Take a still photo of yourself, your children or family with nice, normal smiles. Take a 2nd shot in the same exact place, but with a silly face!
Week 1 Challenges Due Monday, July 27 
Submit your photos and videos for Week 1 Challenge to: webinfo@sacredheartgr.org
Thank y
---
For more information about how you can participate, sponsor or host a watch party for our upcoming Web-a-Thon, please visit Sacred Heart Web-a-Thon 2020.