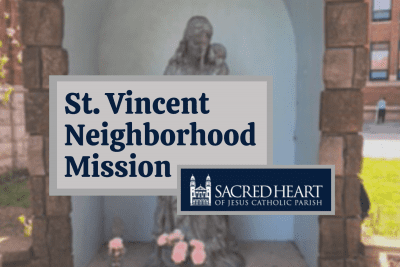 The Sacred Heart of Jesus St. Vincent Neighborhood Mission ministry is an important means by which parishioners can be the "hands and feet of Jesus," providing financial and material assistance, as well as encouragement and advice to parishioners and local neighbors who are in a situation of need. While not affiliated with the St. Vincent de Paul Society, the group models its process on the national organization, personally meeting and praying with the individuals it serves. There are several ways that parishioners can assist the group in its mission:
Contribute to the financial resources that are often needed (write "SVNM" on the envelope or check)
Prayers for the ministry and those it serves are always needed and welcome
We have occasional need of "ad hoc" resources—people who can step up to pro- vide assistance for a specific, limited need (e.g., cooking a meal, providing a ride, donating a needed piece of furniture, providing basic technical or legal advice or assistance, etc.)
Become a SVNM ambassador—as the ministry involves a pair of team members visiting the prospective "neighbor" to extend the personal message of caring to those we serve. It is helpful to have a large pool of caring individuals who will act as "ambassadors" of Christ and of Sacred Heart of Jesus Parish.
Both those who may need assistance and those who may be able to provide it are invited to contact the ministry through the parish office or through the SVNM Help Line (616-236-3154).