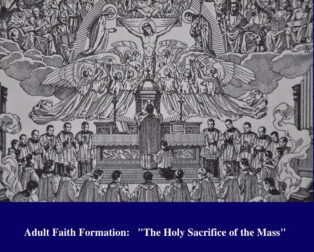 Welcome to this Adult Faith Formation study.
Study Guide
Please download our study guide:  A study of the Roman Catholic Mass
Tuesday Class Audio Recordings
December 14, 2021 – Faithful: Communion. Post Communion. Ite Post Communion. Benediction. Last Gospel
December 7, 2021 – Faithful: Pater Noster, Agnus Dei, non sum dingus
November 30, 2021 – Faithful: Preface, Sanctus, Roman Canon
November 23, 2021 – Mass of the Faithful: The Creed, The Offertory, The Secret
October 26, 2021 – Mass of the Catechumens: Introit, Kyrie, Gloria, Collect
October 19, 2021 – Pre-Mass: The Procession, Asperges, Prayers at the Foot of the Altar
October 12, 2021 – Intro to the Liturgy:  The Paschal Mystery, Lex Orandi/Lex Credendi
---
Adult Faith Formation – "The Holy Sacrifice of the Mass" Study
Time Frame: This 9 week practical study of the Holy Mass begins on Tuesday, October 12th and ends on Tuesday, December 14th. The class is from 7pm-8:30pm in Cebelak Hall. 
About the Sessions: This practical study of the Holy Sacrifice of the Mass will cover an introduction to the Church's Liturgy but also a detailed and practical study of the Rite of the Traditional Latin Mass. While studying the Ancient Rite of the Church those taking the class will come to a deeper understanding of exactly how the Mass passes on the Faith we profess. This class will also take a look at what is similar and different between the two Forms of the Roman Rite.