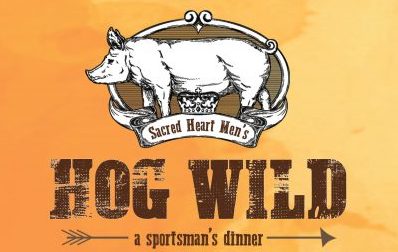 Have you been feeling down since Wild Game night was cancelled? Then you won't want to miss Sacred Heart's Hog Wild – A Sportsman's Dinner!  Our evening of men's fellowship comes complete with a delicious pig roast dinner, raffle prizes and icy cold brew! Consider purchasing a private table of 8 and invite your outdoor enthusiast male friends and youth (12 and up) to come swap stories of the ones that got away and the ones that didn't.  If you loved attending previous Men's Wild Game Dinners, then don't hesitate and pick up your tickets now–they will likely sell out FAST!
Hog Wild will be held in the Sacred Heart courtyard.
Saturday, July 17 from 6pm until 10pm.
Ticket Price: $25
Table of 8 – $200
Contact the parish office ASAP for tickets and Mike Tober if you have questions.