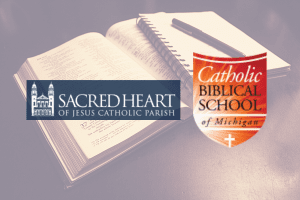 Ever wonder about the Biblical roots of our Catholic faith? Wish you could deeply read and understand Scripture? Starting this September, the Catholic Biblical School of Michigan is partnering with Sacred Heart of Jesus parish to start a new class-cohort Thursdays 7pm-9pm.
CBSM exists to grow disciples in and through God's Word with an in-depth study of the entire Bible led by seminary professors, so that our faith as Catholics is vibrant and more deeply rooted in Christ. Through donations, CBSM is accessible to all with 100% of requests for financial aid granted.
Learn more by visiting cbsmich.org/new, call 586-438-3085 for more information, or contact fellow parishioners Mark Postma or Sean Nolan for more information seannolan@cbsmich.org.