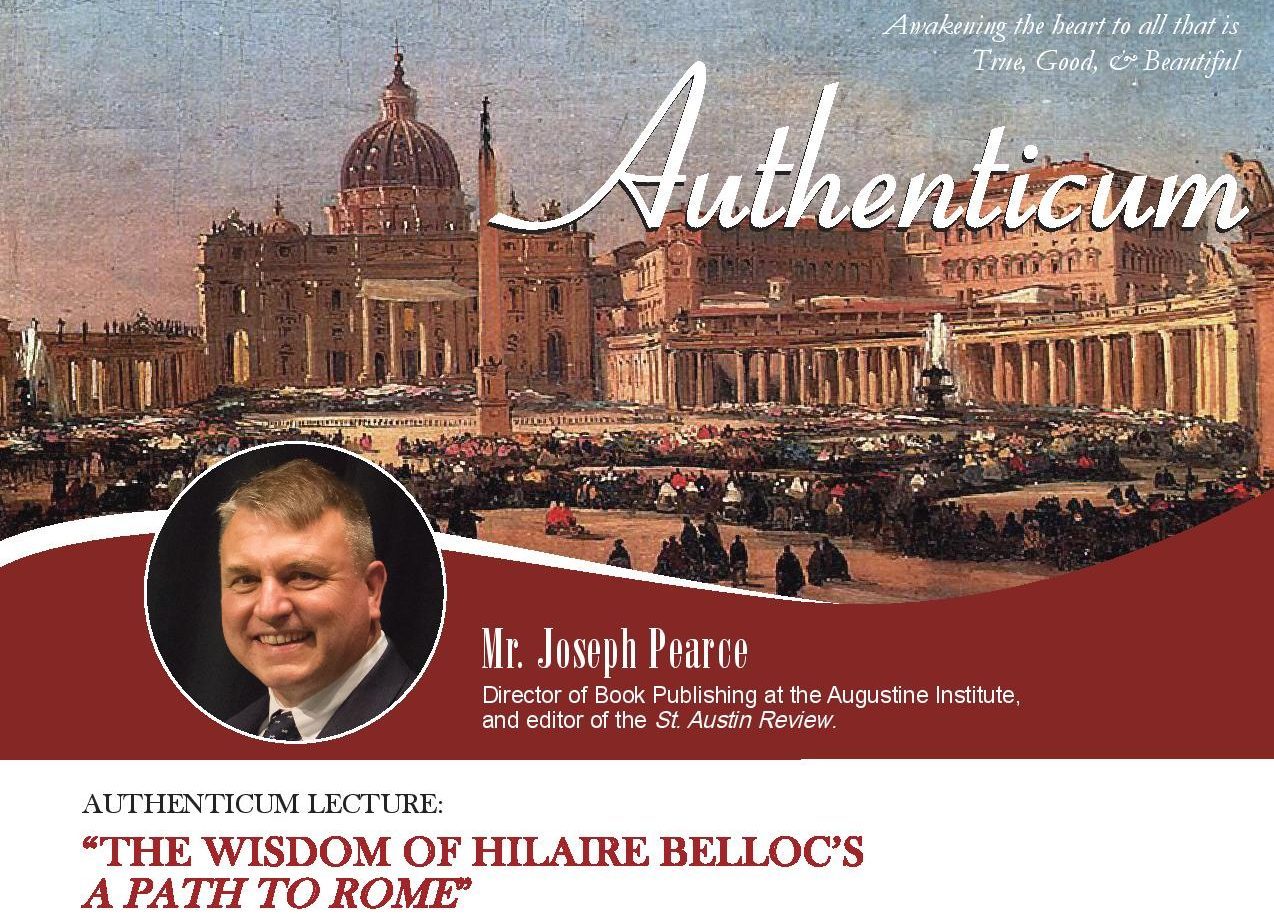 Join us on Thursday, December 2, 2021 at 6:30pm in Cebelak Hall for the next Authenticum Lecture! All adults of every age are invited! Wine & Cheese Social starts at 6:30pm and our lecture begins at 7:00pm.
"THE WISDOM OF HILAIRE BELLOC'S A PATH TO ROME" A native of England, Joseph Pearce is the internationally acclaimed author of many books which include bestsellers such as:
• The Quest for Shakespeare
• Tolkien: Man and Myth
• The Unmasking of Oscar Wilde
• C. S. Lewis and The Catholic Church
• Literary Converts
• Wisdom and Innocence: A Life of G.K.
• Chesterton Solzhenitsyn: A Soul in Exile
• Old Thunder: A Life of Hilaire Belloc. 
His books have been published and translated into Spanish, Portuguese, French, Dutch, Italian, Korean, Mandarin, Croatian and Polish.
He has hosted two 13-part television series about Shakespeare on EWTN, and has also written and presented documentaries on EWTN on the Catholicism of The Lord of the Rings and The Hobbit. 
Authenticum presentations are approved for Catechetical Credit in the Catholic Diocese of Grand Rapids
There will be copies of past Authenticum lectures available at the event, or you can access them online from 
ALL ADULTS OF EVERY AGE ARE INVITED. WE HOPE TO SEE YOU THURSDAY, DECEMBER 2. 
Printable Authenticum December 2021 – Pearce
---
Authenticum presentations are approved for Catechetical Credit in the Catholic Diocese of Grand Rapids