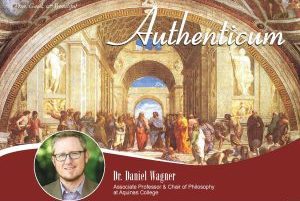 Join us on Thursday, February 3, 2022 at 6:30pm in Cebelak Hall for the next Authenticum Lecture! All adults of every age are invited! Wine & Cheese Social starts at 6:30pm and our lecture begins at 7:00pm.
"PLATO & ARISTOTLE ON THE GOOD & THE BEAUTIFUL."  (τό καλόν/to kalon)
Dr. Daniel Wagner, Associate Professor & Chair of Philosophy at Aquinas College 
Dr. Wagner holds a Ph.D. in Philosophy from the University of St. Thomas. His most recent publication is titled Thomas Aquinas: Teacher of Humanity, Co-Editor with John P. Hittinger, (London, UK: Cambridge Scholars Publishing, 2015). He is the current chair of the Philosophy department at Aquinas College, and is the Co-founder of The Society for 21st Century Thomism. His professional interests are Philosophy of Nature and Science, Metaphysics, Philosophical Anthropology, and the principles of Ethics in St. Thomas Aquinas and Aristotle. 
Authenticum presentations are approved for Catechetical Credit in the Catholic Diocese of Grand Rapids
There will be recordings of past Authenticum lectures available at the event, or you can access them online from 
ALL ADULTS OF EVERY AGE ARE INVITED. WE HOPE TO SEE YOU AT AUTHENTICUM! 
Printable Authenticum Flyer_February 2022 – Wagner
---
Authenticum presentations are approved for Catechetical Credit in the Catholic Diocese of Grand Rapids