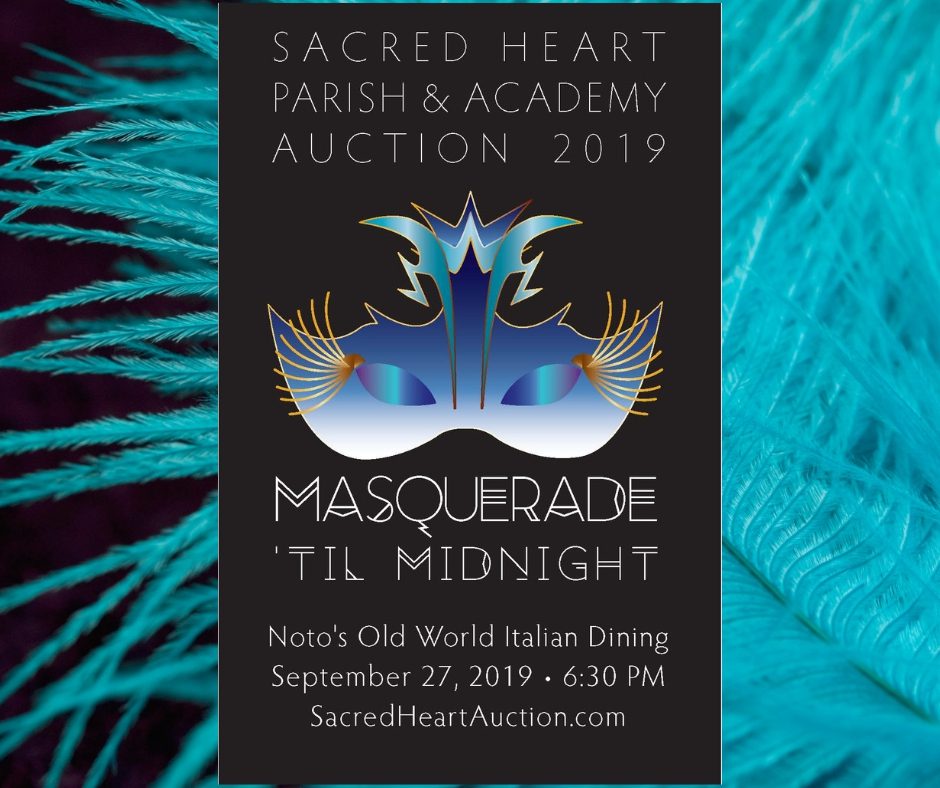 Auction 2019 Seats are Still Available! We still have seats available for our Parish and Academy Auction on September 27th at 6pm. As promised, we drew the winner of the first Amazon gift-card and that winner is Jim Hiske! Everyone who purchases tickets between now and August 1st will be entered into the drawing for our second $150 Amazon gift card. To purchase tickets, you may call or stop in to the parish office or purchase online at: sacredheartauction.com
ABOUT THE AUCTION…
You are invited to "Masquerade 'til Midnight" (ends at 10pm) to celebrate and support the mission of Sacred Heart Parish and Academy. Proceeds from this event help families in need of tuition assistance afford a true Catholic classical education. Monies raised also help to off-set expenses within Sacred Heart of Jesus Parish and Academy for materials, equipment and special programming. Embrace Truth, Beauty and Goodness in our community and culture!
This year, we will be offering festive masks for sale to compliment your evening wear. Enjoy a glass of wine, delicious food, bring some friends and show your support for Sacred Heart Parish and Academy.
FRIDAY, SEPTEMBER 27, 2019, FROM 6:30—10PM
Noto's Old World Italian Dining—6600 28th St., S.E., Grand Rapids, MI 49546
THIS YEAR'S AUCTION TICKETS GO ON SALE ON SATURDAY, MAY 11 AT 6PM! THE FIRST 100 PURCHASERS will be entered to win one of (2) $150 Amazon Gift Cards!
TO PURCHASE TICKETS AND TABLES: Open Seating Tickets for the Live Auction: $75/person Reserved Premium Live Auction Seating: $750/table of 10
Online: www.sacredheartauction.com In person: After all Masses on May 11 & 12 and then at Sacred Heart of Jesus Parish/Academy offices.
SPACE IS LIMITED FOR THIS FRIDAY EVENING EVENT!