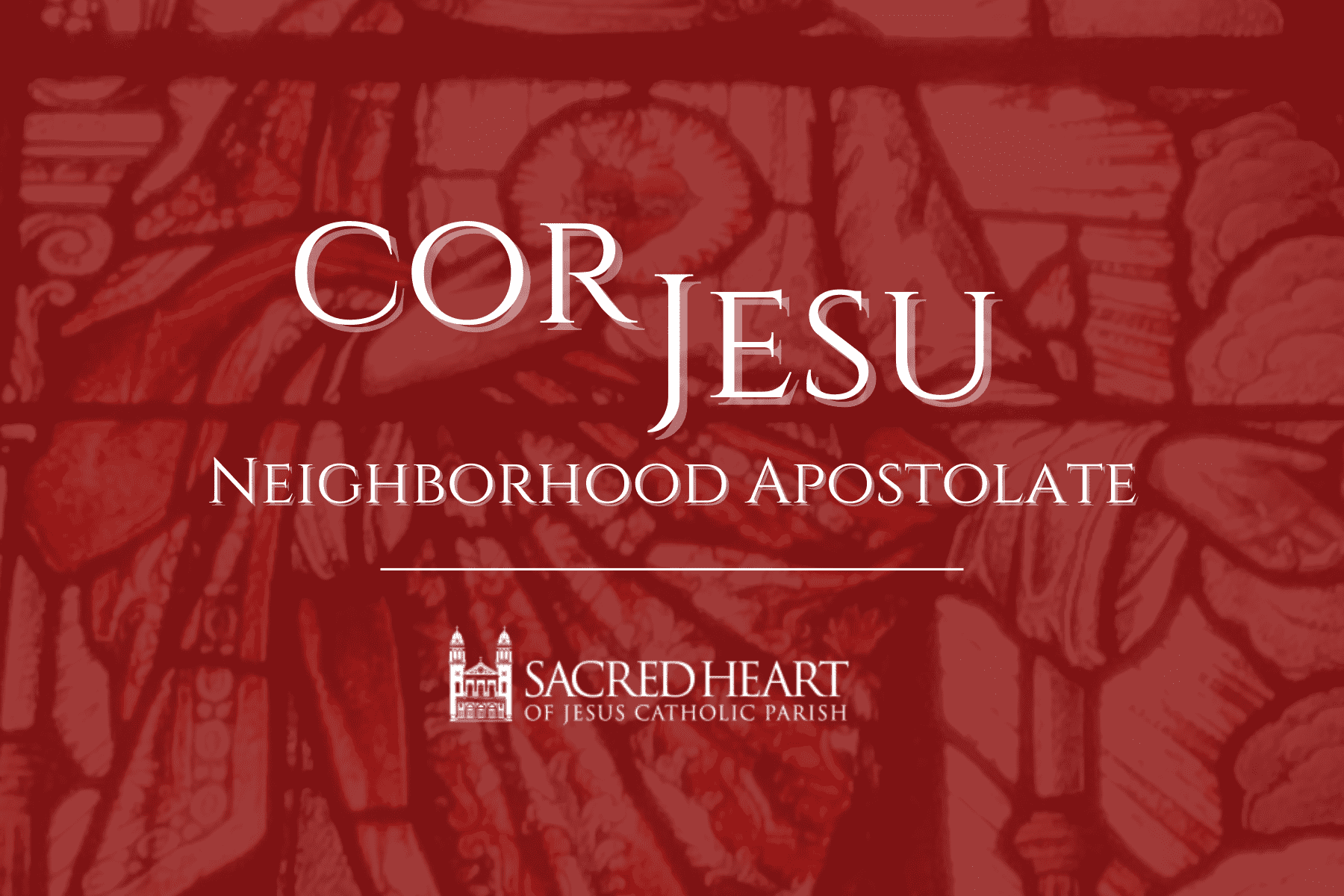 Cor Jesu is an apostolate of prayer and common life of Sacred Heart of Jesus Parish. Through a shared life of prayer, Cor Jesu groups seek to grow families and parishioners in holiness and encourage one another in the life of Faith. It is an evangelical movement whose missionary aim seeks "to put people not only in touch but in communion, in intimacy, with Jesus Christ: only He can lead us to the love of the Father in the Spirit and make us share in the life of the Holy Trinity" (Catechesi tradendae #5 – St. Pope John Paul II). Cor Jesu groups meet a minimum of one time a month for prayer, food and fellowship. Cor Jesu is for every family and parishioner, single or not, senior citizen or young. Please consult the list below, find your region, and contact the leader to sign up.

THE LEADERS AND REGIONS
Grand Rapids Region #1 (Westside down the hill)
Nate and Kellie Dubravec Email: kkinsella34@gmail.com
Grand Rapids Region #2 (Westside up the hill)
Brian and Rose Dougal Email: rose.dougal@gmail.com
Grand Rapids Region #3 (Eastside)
Noelle Divozzo Email: parishoffice@shgr.org
West Region (Walker/Allendale)
Darren and Victoria Krakowski Email: vlovesd@gmail.com
Walker Region (Comstock/Rockford/Sparta)
Denny and Jane Wilmer Email: jwilmer@protonmail.com
(Handicap accessible home)
North Region (Comstock/Rockford/Sparta)
Matthew and Amanda Baker Email: aadbaker@gmail.com
Northeast Region (Cannonsburg/Belmont/Ada)
Jeff and Erin Roberts Email: erinroberts74@gmail.com
South Region (Caledonia/Middleville)
Dan and Audra Keefer Email: arduakay@gmail.com
Southwest Region (Hudsonville/Byron Center)
Scott and Elly Blouw Email: eeblouw@gmail.com
Lakeshore Region #1 (Grand Haven/Spring Lake/Ferrysburg)
Tom and Kim Wurm Email: kawurm65@gmail.com
Lakeshore Region #2 (Holland/Zeeland)
Mark and Rebecca Cistaro Email: cistarom@mail.gvsu.edu
Lakeshore Region #3 (Greater Muskegon)
Jessie and Cynthia DeKuiper Email: cynthia.dekuiper@pm.me
---
Enthronement
The center of devotion to the Sacred Heart of Jesus is the Enthronement of an image of the Sacred Heart in the home. The Enthroned image of the Sacred Heart, which may be a picture or a statue, expresses Christ's true Kingship, daily reminding each member of the family to follow in His royal way by making reparation for sins committed and by striving to serve God and neighbor more lovingly. (Excerpt from "Enthronement of the Sacred Heart" by Raymond Card. SRE Burke)
For more information about organizing an Enthronement contact your Cor Jesu captain to invite your neighbors, contact the office parishoffice@shgr.org to schedule a priest to visit your home, and check out this document for the format of Enthronement.
Enthrone Booklet